BOB OST PRESENTS
Keyes To Heaven
MAC Award Winners remember lyricist Eben Keyes
Music by
Michael Cook, Ron Gold, Bob Ost and Blaire Weille

Lisa Asher, Bill Daugherty, Heather MacRae, Karen Mack, Sue Matsuki, Carolyn Montgomery, Sidney Myer, Georgia Osborne, Julie reyburn, Steve Ross, Craig Rubano, Marcus Simeone and Thos Shipley.
The witty and poignant lyrics of Eben Keyes, sung by Mac Award winning stars of the New York cabaret scene. Musical styles range from retro rock to jazz to country to comedy.
CLICK HERE to order from CDBaby.com
or email BobOstCD@aol.com to order directly from Bob!
Get into the act ...
2004 MAC Nomination:
Best CD of the Year
(Group or Compilation)

To order, click to
Footlight Records or Amazon.com
Starring Tony nominees Robert Cuccioli, Danny Burstein, Marc Kudisch, Rebecca Luker, Nancy Opel, Emily Skinner and Mary Testa ... plus Broadway favorites Bryan Batt, James (Delisco) Beeks, James Judy, Francine Lobis, Karen Mason, Mark Nadler, Christianne Noll, Evan Pappas, Stephanie Pope, Jana Robbins, David Sabella, Steven Stein-Granger and Mary Stout.
Featuring Warren Vaché on trumpet, Jim Pugh on trombone, Les Scott on woodwinds, Emily Bindiger and Peter Davis on background vocals. And a dozen other great musicians!
Executive Producer: Bob Ost
Music Director George Small, Michael Lavine
Produced by Chip Fabrizi, George Small
Recorded and Mixed at PPI Recording Inc, NY. Engineered by Chip Fabrizi
Everybody's Gettin' Into
THE ACT
Bob Ost's
Off-Broadway Musical Vaudeville
click on the title or picture to order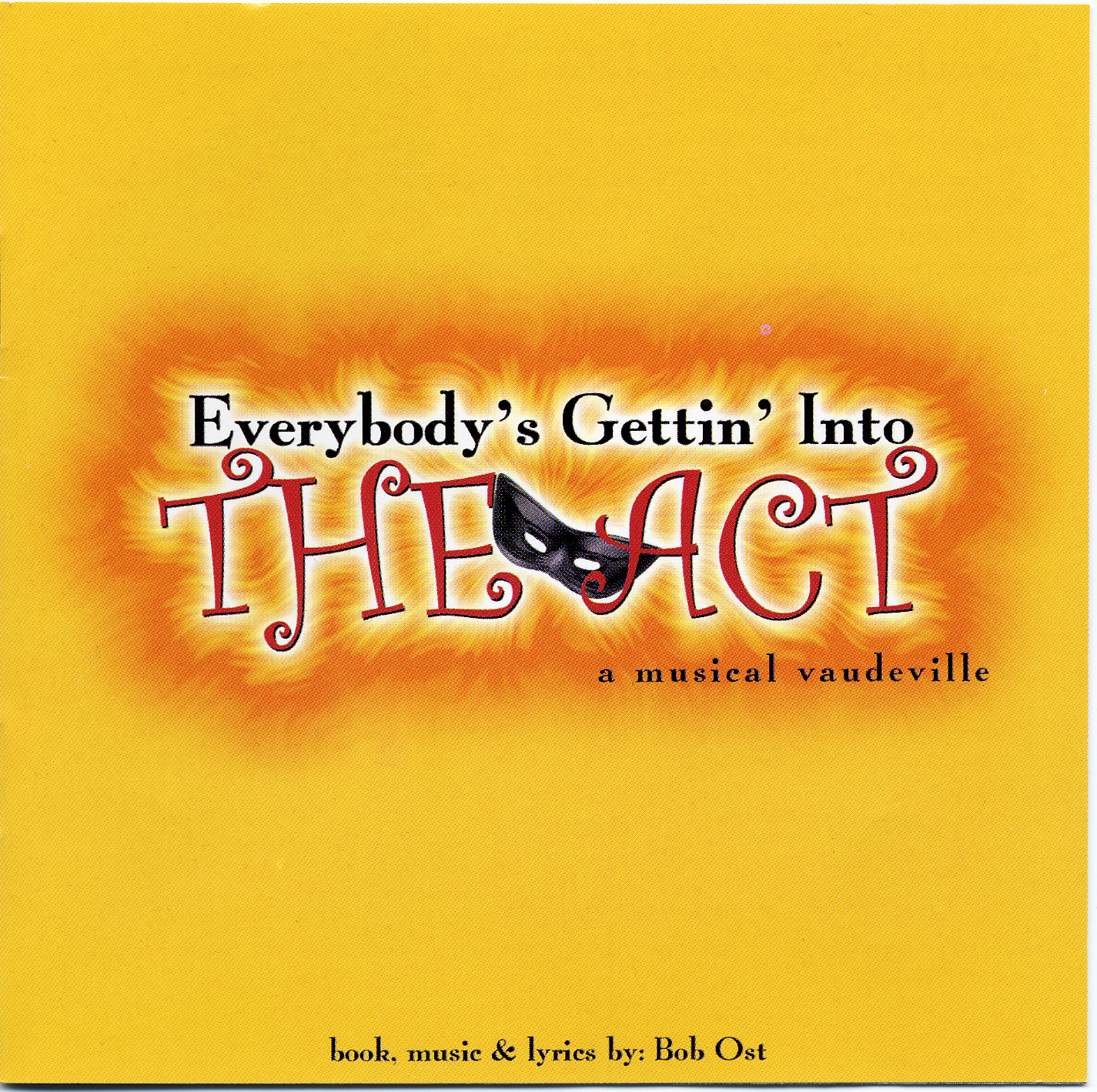 From the hugely entertaining title song onwards, Ost picks at the neuroses of folk, and in particular show folk, with a mixture of ruthlessness and affection. Ultimately, in the show-stopping (dare one suggest Lloyd-Webberesque) Don't I Know You?, he seems to conclude that an acceptance of human imperfection is the key to achieving relative happiness. The performances are universally strong and perhaps this is no surprise, since the soundtrack has 20 Broadway performers, no fewer than six of whom have been nominated for Tony Awards..
-Philip Fisher, The British Theatre Guide
(click to read full review)
"There aren't too many albums that sport six Tony nominees!"
-Peter Filichia, Newark Star Ledger, Theatermania.com
"His songs have both touched me and made me laugh. But what I particularly admire is that ... they address us as serious, aware adults who have known the same joy and sorrow, pleasure and pain, love and loss as he has experienced. They convey a rare generosity of spirit and sense of compassion."
- Sheldon Harnick, lyricist Fiddler on the Roof, Fiorello, She Loves Me
"This man is guilty of being original! Bob Ost's life is the art of drawing without an eraser."
-Joey Reynolds, WOR Radio


Annie Hughes • Brian Lane Green • Norm Lewis • Rebecca Luker • Heather MacRae • Alice Ripley • David Sabella • Marta Sanders • KT Sullivan • Jane Summerhays • Sal Viviano • Lillias White
Executive Producer:
Richard Marshall
Produced by Chip Fabrizi, Bob Ost, George Small
Recorded and Mixed at PPI Recording Inc, NY
Engineered by Chip Fabrizi
click on the title or picture to get discography
Available at www.2die4music.com, www.cdbaby.com and www.amazon.com
"One of my favorite show albums of the year. The songs are sparkling... Great sass, great style. A lot of fun. Quality work. I'm glad to have it in my collection and file it alphabetically next to Cole Porter."
Peter Filichia, The Newark Star Ledger, Playbill On-Line

"The roster of known quantities, ranging from Lillias White ... to soap star Brian Lane Green, is as miscellaneous as Ost's songs, which jump from country rock to old-style show tunes to cabaret-style comic patter numbers. He holds his own well in all these and other genres; someone should probably hire him to write a musical."
Michael Feingold, The Village Voice

"Deserves its own special place in any music lover's collection ... multifaceted and seamlessly crafted. Many of the tracks were produced with pop sensibility, others with more theatrical traditions. In both musical idioms the album often emerges outstanding. All faithful cabaret fans should pick up a copy as soon as possible!"
Andrew Martin, Applause! Applause!

"One of those rare song collections that actually grows richer and deeper with repeated listenings ... marvelous and fresh ... ranging from blues and rock to classic Broadway and novelty numbers. Extraordinary singers. You're going to have to buy two copies of this disc; I promise you're not going to want to let go of it once you hear it."
Christopher Byrne, LGNY Magazine

"Having just listened to Bob Ost's spectacular "A Special Place: Songs from the Heart," let me invite listeners to open their ears to the dazzling panorama of romance, poetry, and honesty that Ost and his 13 superb singers present in this original and beautifully crafted collection. From the lyrically surprising "Aren't You The Lucky One", to the playful "I'm Gonna Find Out" to the heartfelt finale of "A Special Place", each artist presents their unique and definitive interpretation with the candor, strength, and wonder of Ost's writing. Musical Director George Small has captured the essence of each piece with sensitivity, a beautiful rhythmic pulse, and an integrated musical synergy of which he truly is master. The collaboration is brought home by Chip Fabrizi, one of the four producers, an engineer, percussionist, and a pair of ears that is remarkable for its commitment to excellence and truth. "A Special Place" by Bob Ost is a musical happening for our time."
Terry Heller Director, Music Together of Midtown West